The series is for you that use capability based methods, and not for method or framework builders.
An important question for any method or artifact is, how do you define success? This is especially important in this case where knowledge about the capability secret is likely to change the perception of what a capability is and what a capability can and should be used for.
How do you evaluate methods?
Do you look at the qualities of the work product or deliverable only?

 

Do you listen to the supplier or consultant who says "trust me, this is good for you!", or

 

Do you evaluate the contribution to work you do?

 

How and what you evaluate makes a big difference!
We are using a work oriented quality model where the benefits of using the idea of capability takes precedence of the qualities of the capability model. See the The dirty little capability secret: A quiz for more information.
The success criteria is designed to be neutral, balanced, evidence based, and pragmatic. It helps in situations where method developers provide different techniques and they all say "trust me…". What about trusting yourself and your knowledge about your own work with others?
The success criteria is neutral with respect to capability methods, just ask yourself… 
Is the capability model workable for me?

 
Can I use it to answer specific questions?
…or was only the discussion, about capabilities, valuable?
Do I want to use it?

 

Do I use it?
… or did it end-up in the maybe-read pile of papers again?
Do I accept the consequences of using it?
Do I learn from using it?
Figure: An illustration of the central parts of the Work Artifact Quality Model.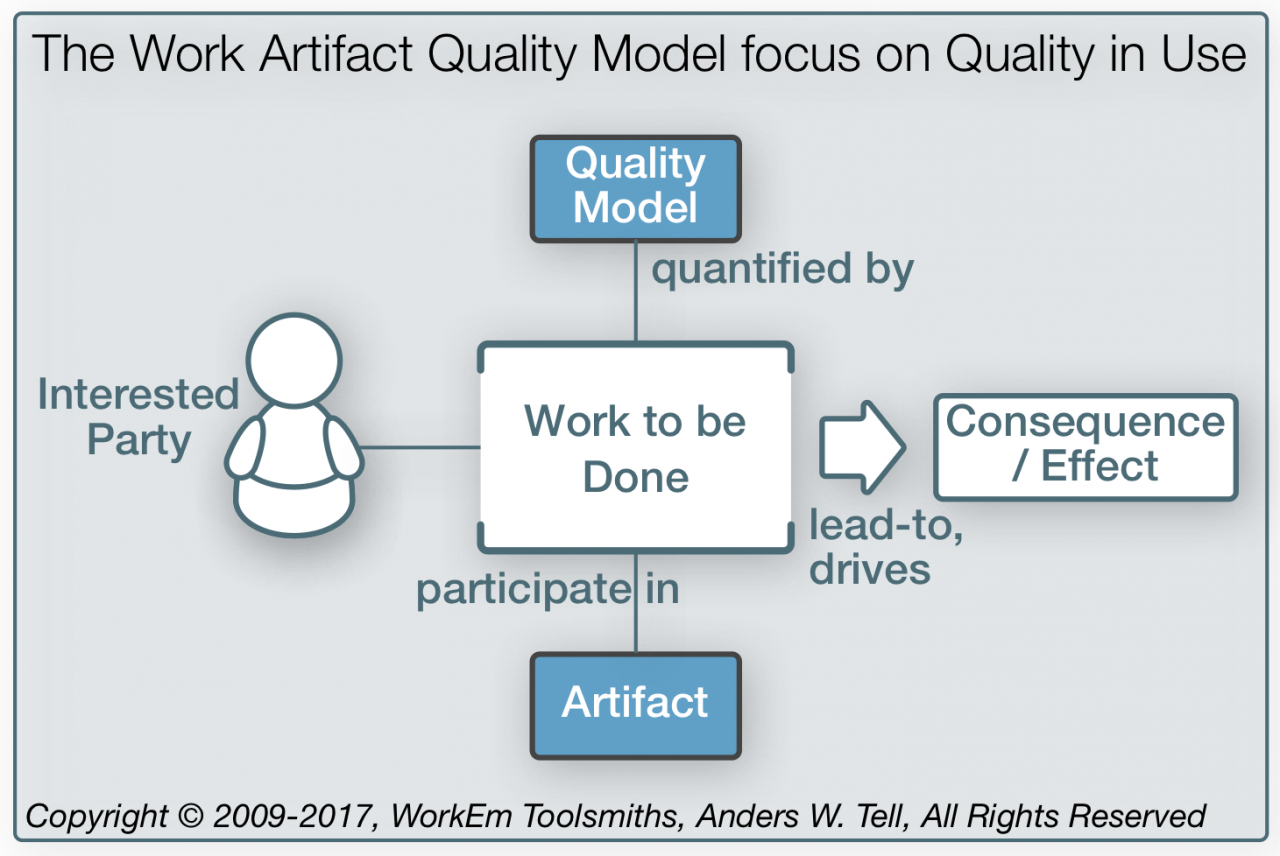 The success criteria represents a shift …
from Persona to Job/Work to be done
from Quality of Product/ Artifact to Quality of Work

 

from Trust in Supplier to actual Work
 The success criteria adds value in at least the following situations:
An individual, professional, or manager assess own work and work products.
A service provider creates and delivers whole or parts of work products.
An end-user receives work products from a service provider, expert or consultant.
Method development or method tailoring.
Equipped with the knowledge of the The dirty little capability secret and the quality model, you can to evaluate your capability models and methods.
Stay tuned and Enjoy!
Anders W. Tell
WorkEm Toolsmiths
Figure: An illustration of the Work Artifact Quality Model with shifts.