An important part of the history behind Interweaving is that the journey towards a practice started as a way to describe, model, and design enterprises using Enterprise Architecture (EA).
1st: The first version was an attempt to address the large volume of reported and experienced significant problems when EA was used outside IS/IT and engineering. Initially the focus was on improving EA from within, by incrementally "recognising" and "solving" reported problems. Soon it become clear that the IS and systems engineering tradition behind EA was and still is strong, rigid and resilient against changes. Adapting EA to modern organisations in the age of information, global interconnectedness, and digital technologies became a difficult task. One problem with EA is that it quickly becomes a language for experts, used by them behind the curtain in their own ways. Leading to serious consequences such as that the understanding, acceptance, and usability by ordinary people (in-front of the curtain) becomes low.
2nd: The second version evolved to a Pivot from EA. Here, two questions were formulated that contain the focus and scope of Interweave thinking and the Interweave Practice. The Pivot is visible in a number of areas. One example is the shift from creating a profession/practice that assimilates the competences of others, in the quest for designing the optimal enterprise, to a complementary practice. By applying Interweaving on itself the practice now fits with any part of an organisations, private as well as public.
This Pivot is similar to the shift between Apple's iPhone and Nokia. Two smartphone systems, with very different characteristics.
Today: Interweave thinking and the Interweave Practice have now matured, through use, and research, to a practice that stands on its own. Instead of building on the EA-tradition, the practice has become open and builds on ways of thinking and working used in existing professions and organisational roles.
"Interweaving Aims to Unlock, Realise, & Optimise the Value of Togetherness"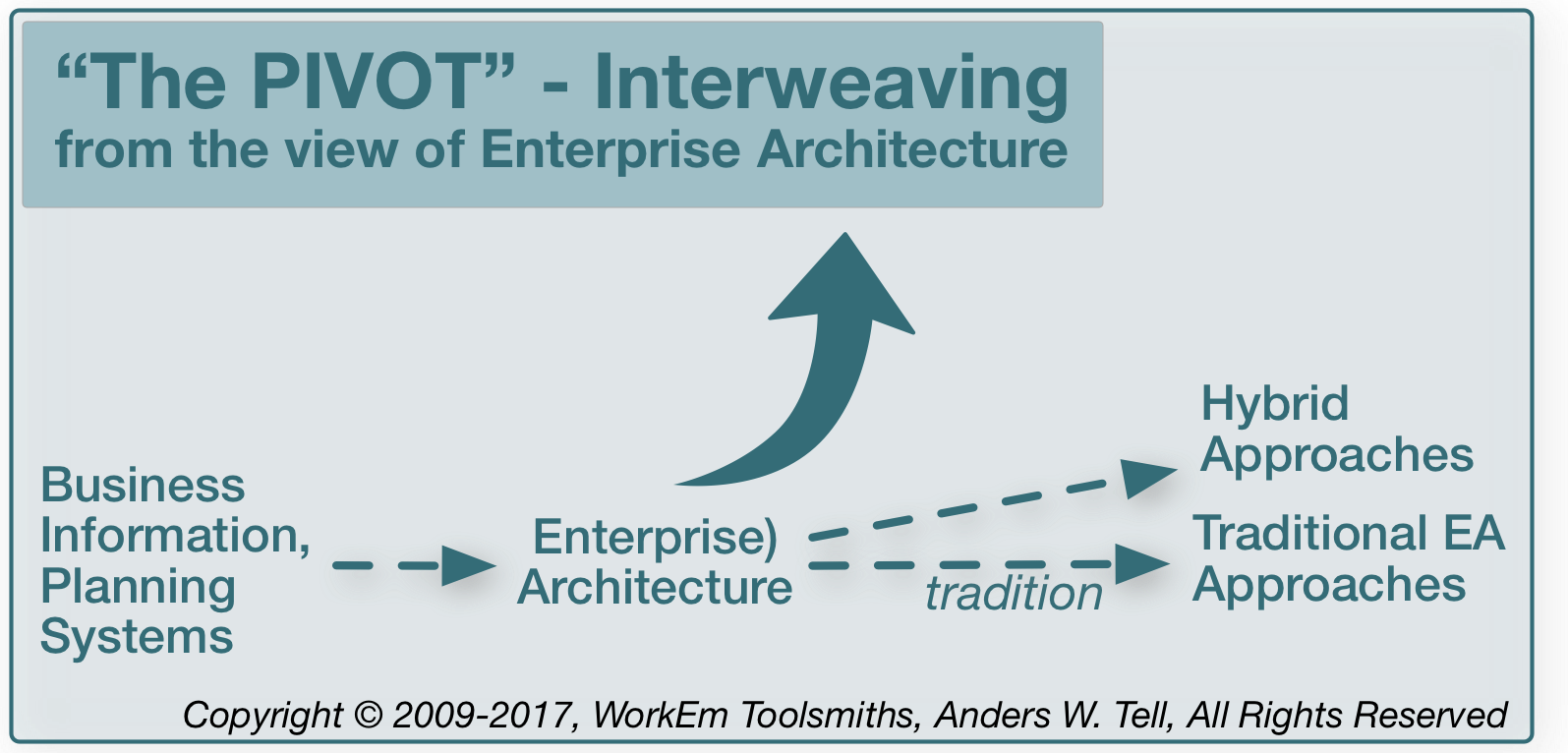 The Pivots
The following sections each outline a topic where Interweaving Pivot's from the tradition of Enterprise Architecture.
to Questions and Thinking from Framework, process, and meta model
to Complementary from Overlapping
to Togetherness from Optimal Enterprise
to Respect for people, their work and mindsets from Single source of truth
to Work Oriented from View oriented
to Work Oriented from Structure focus
to Right sized from Comprehensive framework
to Problem - Solution FIT from Solution looking for a problem
to Open knowledge from Predefined framework
to Cohesion and Stability from Integrity
to Cohesion and Stability from Conformance
to Agility from Rigidity
to Grounded from Satellite
to Whole Life cycle from Design specification focus
Interweaving aims at providing worthwhile benefits over the whole lifecycle up-to horison.
Being clear about what is most important and how a digital transformation project fit, act and evolve together with the company and customers, are relevant not only before but also during and after. Worthwhile benefits from practicing Interweaving can be achieved over the whole life cycles of projects, enterprises, companies, products, technical systems, business models and strategies.
Interweaving not only adds benefits before strategy execution but also during monitoring, management, and adaptation. The practice can start in an inquiry and investigation into the past in order to create validated learnings.
The road taken by Interweaving is different from the tradition of Enterprise Architecture that often take a strong focus on creating design specification in the form of models. Interweaving goes well beyond a focus on creating a high level specification for others to implement.
That which provide cohesion and stability in an enterprise are important to work with through its whole life.
to Interweaving from Assimilation
Interweaving aims at weaving and aligning people, things and work they do together.
The focus is on respecting peoples professionalism and to complement their work with that which fall between the chairs. To create fusions between areas of knowledge and work. To understand what people consider as most important (salient) in their world and weave their interests with others.
The practice strives towards weaving…
business models with operations and strategy, but not to redesign a new business model theory
strategy development with execution in existing departments and processes, but not to reinvent the strategy process.
digital transformations with change management, but not to take ownership of all that can be labelled as 'digital'.
organisational design with new ways of working, but not to recreate a governance regime for the operating model.
different approaches, methods and theories, rather than inventing new ones and replacing what already exists.
The road taken by Interweaving is different from the tradition of Enterprise Architecture that often has a strong focus on assimilating what is already known and reformulating it into a Single source of truth. This knowledge is then stored in a database and is governed, managed, and conformance checked by the experts.
to Knowledge and Learning from Models and Modelling
Interweaving aims at delivering knowledge in all forms.
Knowledge can be used as an Instrument to influence an organisation for worthwhile benefits over the whole life cycle. It bridges people and workflows in transformation projects or ordinary operating activities.
Knowledge can be found in many forms. Embodied in peoples minds, bodies and emotions, Embedded in artifacts, procedures and situations, and Explicit in documents, illustrations, presentations, models, and stories.
In a workshop, knowledge is not only created in resulting documents but also embodied in the participants. A Gemba walk transfers embedded knowledge into the walkers.
Learning is a vital part of the continuous improvement of knowledge. Focusing on the existence and creation of knowledge is only one part knowledge management.
The road taken by Interweaving is different from the tradition of Enterprise Architecture that often have a strong focus on the creation of predefined models and modelling as part of high level design specifications.
Interweaving considers modelling as a tool and a junior position activity. Interweaving is much more that a mere creation of models.
See also: Delivering Knowledge - Moving beyond Blueprints, A Point-of-View needs good Stories
Interweaving aims at answering the question - What is most important (salient) to people in work they do with others?
The focus is on what people considers as relevant and important to them, and ties directly into "What is in it for me?". Interweaving is a human centric and work oriented approach that drives Interweaving work towards usability, acceptance, and suitability.
The focus on saliency provides an always relevant criterion for what to include and exclude when Interweaving and creating knowledge.
The need to know details varies according to work people do. Even in the preparation of strategies some details are of interest to strategists. Managers usually know what actually happens on the factory floor. Saliency address what is important, not what someone determines is a suitable level of details.
The road taken by Interweaving is different from the tradition of Enterprise Architecture that often has a strong focus on creating high level design (specifications). A high level design often has a fixed format and content and thus already has the answers, regardless of situation and problems.
High level designs are often created to be included in engineering processes. There they are tied to particular ways of working and work products.
Interweaving - a complementary, supplementary and agile practice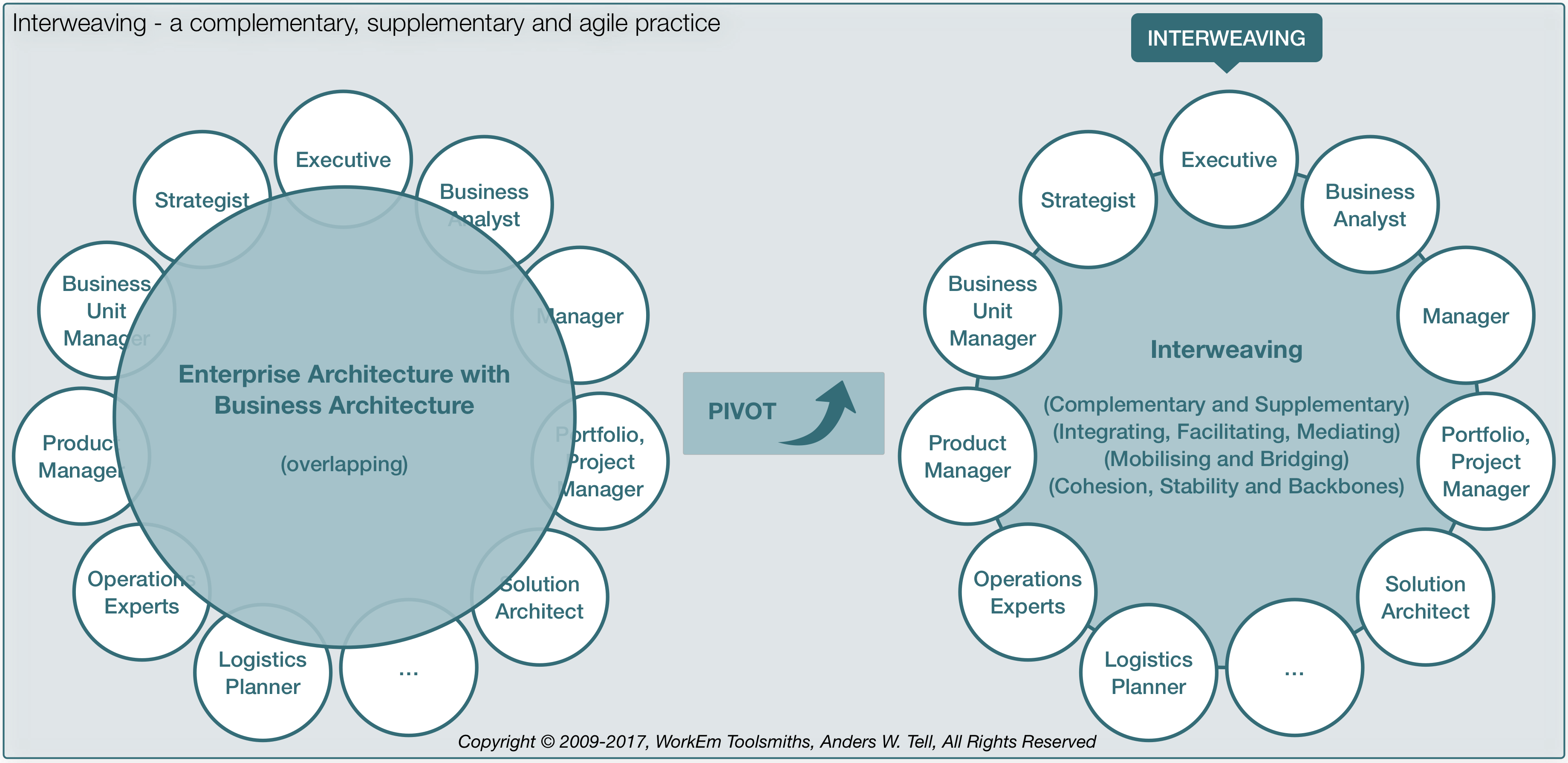 From the Starting Point to the "Right Size"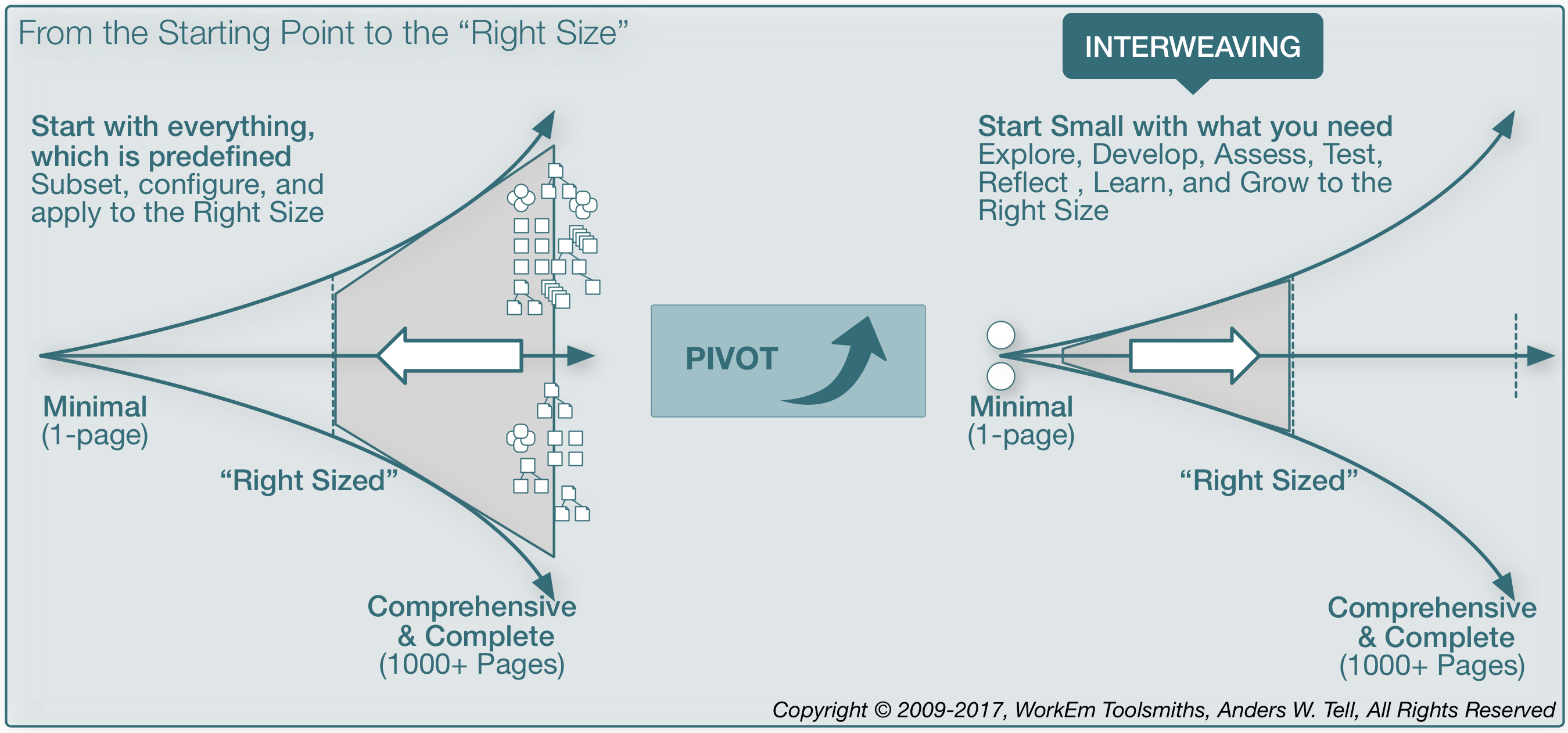 Note: The exist a number of mis-interpretations of the start with what you need and not more approach. If you want to build a (new) truck then you should not start by building a bicycle and then try to scale and grow. Start with what you need. Maybe you aim for a minimal viable truck product, with extensibility options?!
Interweaver - the complementary and supplementary Integrator, Facilitator, Mediator Role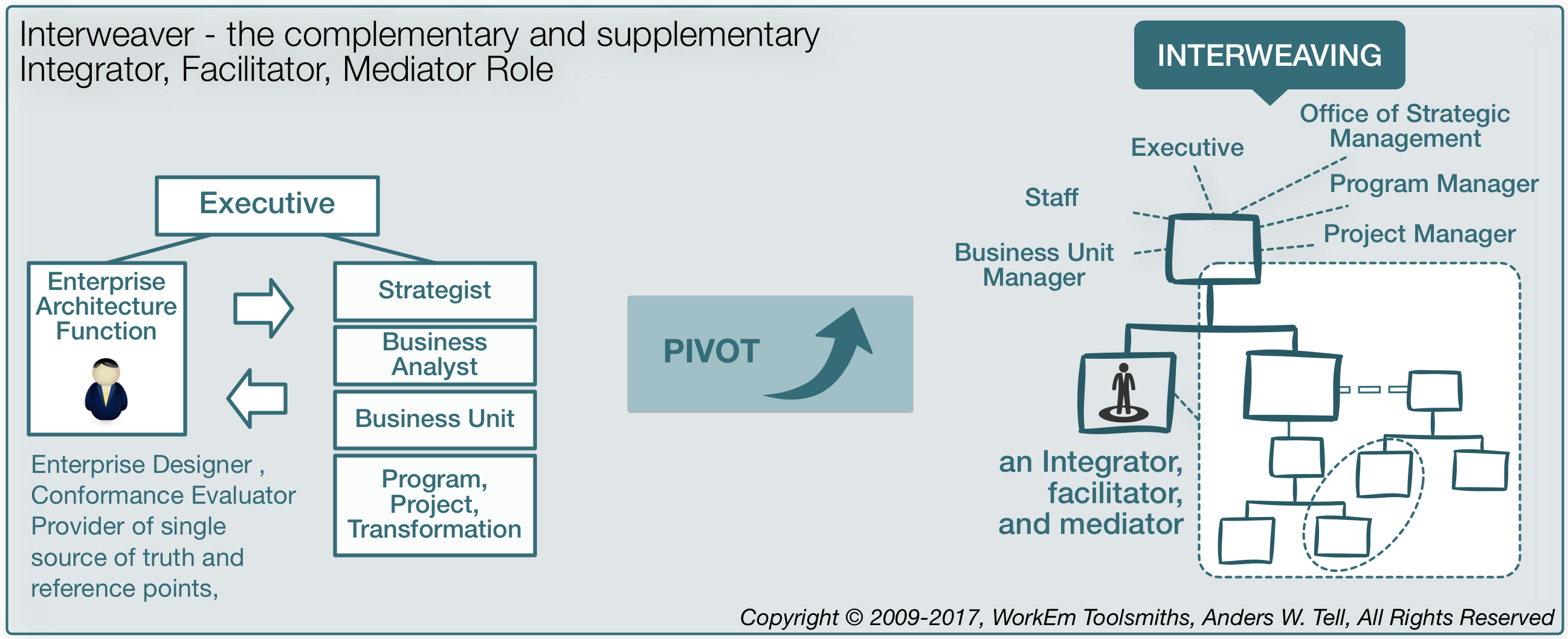 to FUNdamentals from Capability
Interweaving focus on that which is fundamental, essential, enabling, and salient.
In an organisation or project there are many, many aspects and things that provide …
cohesion and stability,
backbones and guardrails,
bridges or space,
underpinning logics,
instruments that optimise togetherness in an enterprise,
something to strive towards or away from.
Interweaving aims at working with all fundamentals that transcend boundaries and keep a business together. Maybe, a "shared platform" keeps car production together. Maybe, "2 bins" keep the supply of material flowing in a hospital. Maybe, the "phases of a flight" organise the work at an airport.
Interweaving is concerned with what is most important to people and the current situation, and not with predefined constructs that may or may not be relevant in solving specific problems.
The road taken by Interweaving is different from the tradition of Enterprise Architecture that nowadays is grounded and focused on the idea of capability.
A capability perspective provides one and only one lens by which you can look at a company. A capability represents only the possibility that some result can be achieved. The world nor enterprises do not center around capabilities.
On a top-ten list with the most influential and fundamental elements that provide cohesion, stability, and backbones, capabilities may be present but one has to look all the other elements to know that.
In Summary