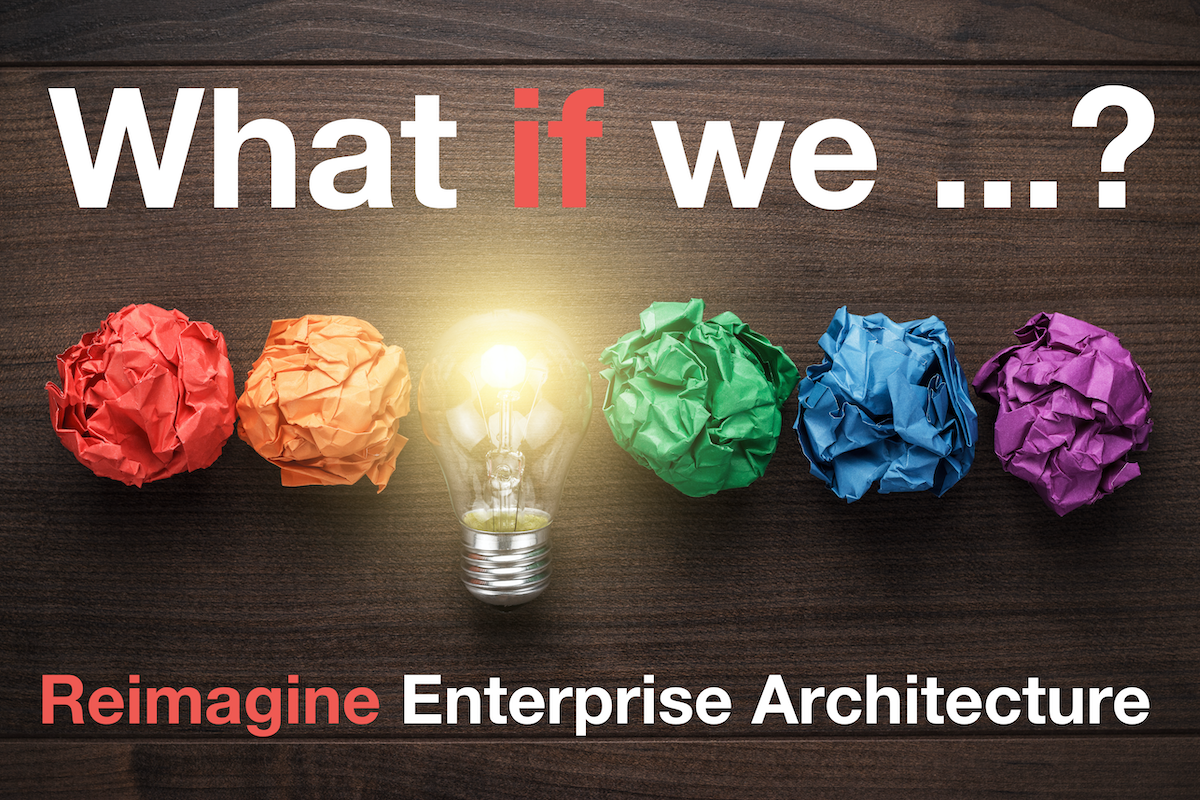 Reimagine: to Complementary from Overlapping
In this series of articles we Reimagine the traditions of Enterprise Architecture (EA). We use the design technique "What if we …", which is a simple but powerful technique where one aspect is changed in a solution or artifact to examine what happens.
In this What if we ... exercise we focus on how architects relate to other professionals in an organisation.
What if we ... pivot ... the practice of architecting to be complementary, from being an overlapping assimilation of existing practices?
Let us see what happens...
From
Traditional Enterprise Architecture (EA) is an idea that originates from the business information system domain. Over the last 30 years it has accumulated and assimilated ideas from a large group of practices and theories, mainly from IS/IT and engineering domains.
This has created an overlapping situation where a traditional enterprise architect is expected to be an expert in many fields of knowledge and practices. But is it possible that a traditional EA can be an expert in all those fields?
In an organisation one can already find full time professionals that are experts in one or more fields. This can and do create tensions in work places and a battle over who's perspective and truth is the correct one.
In many professions it is commonplace for professionals to have generalist competences and one specialist area (T-shaped competence profile). In some professions it is recommended that a professional expands with one extra area of specialist competences (PI-shaped profile). The specialist expectations of a traditional EA are manifold (Comb-shaped profile). But how many specialist competences are feasible for one person to assimilate?
Let us examine how many ways of working and thinking that have been assimilated by Traditional EA's
Project management, program management, agile project management
Design, business design, systems design, engineering design
Strategy planning and execution
Business leadership and management, business model analysis and development, customer experiences, business case development
Innovation, (new) product development, service development
Product management
Change management
Digital transformation
Economics, values and value chains
Investment analysis
Capability based planning
Performance management, risk and compliance management
Organisational planning, operating models, organisational excellence, LEAN
Supply chain management, logistics planner, manufacturing
Business processes, resource and asset management
Technology development, IT architecture, infrastructure, knowledge and data management
and much more.
To
We simplify the architecting practice to become a complementary, supplementary and agile practice instead of an assimilating, overlapping and grand practice.
An architect can now focus on working with togetherness, what is most important (saliency), and that which create shared understandings, collaborations and directions. An architect fills in the gaps with a focus what is missing, what bridges people and their work, and the address the overall cohesion amongst what goes in an organisation.
It is a shift in focus to integration, facilitating and mediation, as well as on mobilisation and engagement.
Concequences
This simplification enables an architect to seamlessly work with existing professional without the conflicts of doing other peoples jobs.
An architect can now add unique competences and valuable work items not catered for by others in an organisation.
In coming instalments we will elaborate on what an architect sees and works with.
Back to the start: What if we .. Reimagine Enterprise Architecture?