Interweaving and Architectural thinking can be thought of as a putting on a pair of coloured lenses or glasses that frame and filter the world. These lenses emphasise and include the most important, fundamental and interweaving elements that architects should focus their attention, efforts on.
The lenses reach far beyond design efforts, across the whole life cycle of an enterprise, company, society, or state agency, including all that Interweave their parts.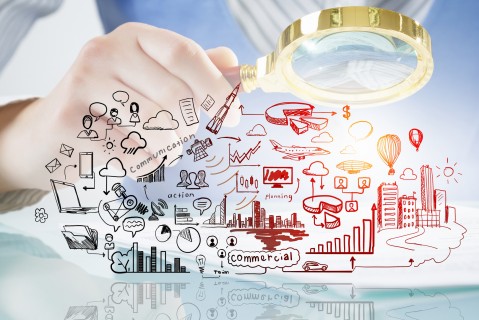 The lenses are worn by an observer that observes, experiences, measures, interprets or evaluates some observed part of a world. This world can be the real, actual world but also the past, the future, fictional or possible world.
Interweaving and Architectural thinking thinking can be used to make sense of the world through interpretations, and change transform it through actions (practices). The lenses provides what is needed to capture knowledge (descriptions, explanations, hypothesis, predictions, prescriptions,…) about what is important, fundamental and interweaving.
The following diagram illustrates key parts of the lenses.

An interweave or architecture looks a little bit different on based on who you are and what you do, where you stand, your attention, what you look at, and what you are supposed to do with the knowledge. 
Interweaving, architectures, architecting efforts, and architectural thinking that are relevant, acceptable, and useful should support and enable people in work they do. Wether someone is a top-level manager, supervisor, marketer, business developer, technical system engineer, change manager, or regulator, Interweaving and Architecting should support the work they do, questions they need answers to, problems they solve, and provide information they need to do their work well. 
It is worth remembering that in companies, state agencies, communities, etc. the actual architectures are co-created by its inhabitants, i.e. myriads of thinkers, decision-makers and doers.
The following diagram illustrates that Interweaving and Architecting are situated by work, work questions, etc.

In the following articles we will outline and dive into what is seen through the lenses, and what to do with it.
Additional information:
The lenses metaphor support the foundational statement:
"Considering interested parties manifold of perspectives and attitudes" 

"Accommodating the interests of interested parties and their performance criterion, with confidence and subject to freedoms and limitations." 

"Providing feasible, accommodated, acceptable, and actionable support to people in work they do with others, including consequences thereof." 

"Co-creating architectures with the interweaved interested parties." 
Enjoy!